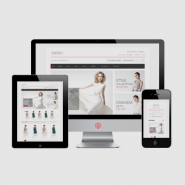 Statistic Verification
Source: U.S. Commerce Department, Forrester Research, Internet Retailer, ComScore, Inc.
Research Date: October 9th, 2014
Most brick-and-mortar retailers are scrambling to get a piece of the online market. Every year more and more people become accustomed to the idea of making a purchase online. This really drives home how important an e-commerce business website is for anyone selling a product or service. Shopping is one more thing the internet has changed forever.
Share This
| | | |
| --- | --- | --- |
| Year | U.S. Online Sales (Combined) | Sales Made Via Mobile Device |
| 2017 Projected | $440,400,000,000 | $114,500,000,000 |
| 2016 Projected | $392,000,000,000 | $98,120,000,000 |
| 2015 Projected | $347,000,000,000 | $76,410,000,000 |
| 2014 | $304,100,000,000 | $57,790,000,000 |
| 2013 | $263,300,000,000 | $42,130,000,000 |
| 2012 | $225,300,000,000 | $24,780,000,000 |
| 2011 | $255,600,000,000 | |
| 2010 | $172,900,000,000 | |
| 2009 | $155,200,000,000 | |
| | |
| --- | --- |
| Year | Global Online Sales |
| 2013 | $1,250,000,000,000 |
| 2012 | $1,000,000,000,000 |
| 2011 | $763,200,000,000 |
| 2010 | $680,600,000,000 |
| Top Consumer Reasons For Shopping Online | Percent of Survey Citing Reason |
| Time Saving | 73 % |
| More Variety | 67 % |
| Easy to Compare Prices | 59 % |
| No Crowd | 58 % |
| Lower Prices | 55 % |
| Spend Less on Gas | 40 % |
| Less Taxes | 30 % |
| Other | 3 % |
| Online Shopping Statistics | Percent |
| Percent of online user who have made an internet purchase | 87 % |
| Percent of online user who have made a purchase multiple times | 59 % |
| Percent of retail sales that are made online | 9 % |
statistics on online sales ? what was the total spent online in 2014 ? total number of people who have shopped online ? what percent of the population has made a purchase using the internet ? online sales figures ? mcommerce online sales statistics online ecommerce sales statistics ? global online sales 2013 2014 2012 ? what percent of online sales are made using a mobile phone device ? total amount of online retail sales