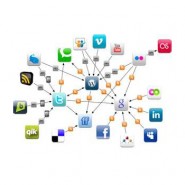 Statistic Verification
Source: Browser Media, Socialnomics, MacWorld
Research Date: July 9th, 2014
Online social networks have emerged has the new way in which people connect socially. The leader currently being Facebook with over 1.2 billion members. Web-based social networking services make it possible to connect people who share interests and activities across political, economic, and geographic borders.
Share This
MORE SOCIAL NETWORK STATISTICS
Percent of People Who Use Social Networks
Percent Yes
Do you ever use / have a profile on… (Poll Taken in early 2012)
Any social network
58 %
Facebook
56 %
LinkedIn
14 %
Twitter
11 %
Google+
9 %
Social Network Statistics
Data
Total number of Facebook users worldwide
1.4 Billion
Total percentage of 18-24 year olds who already use social media
98%
Total percentage of people on Earth who use Facebook
11%
Total amount of minutes people spend on Facebook every month
700 billion
Average amount of time a person uses Facebook per month
15 hours 33 minutes
Total amount of people who access Facebook with phone
250 million
Total amount of websites that have integrated with Facebook
2.5 million
Total pieces of content shared on Facebook each month
70 billion
Total amount of unique YouTube users per month
490 million
Total amount of YouTube page views per month
92 billion
Total amount hours spent on YouTube per month
2.9 billion
Total amount of articles hosted by Wikipedia
17 million
Average pictures uploaded to Flickr per minute
3,000
Total amount of pictures hosted by Flickr
5 billion
Average amount of tweets per day
190 million
Percent of teenagers who log on to Facebook over 10 times per day
22%
Percent of Facebook users under the age of 10
25%
Percent of teens that view social networks as unsafe
59%
Percent of Americans who aren't confident in their ability to use privacy settings
24%
Top ten most engaged countries for social networking
Average Hours Per Month
Israel
11.1
Argentina
10.7
Russia
10.4
Turkey
10.2
Chile
9.8
The Philippines
8.7
Colombia
8.5
Peru
8.3
Venezuela
7.9
Canada
7.7
United States
7.6
Tags:
statistics on social networking networks ? total number of people that use facebook google+ vs twitter statistics ? how many people use Facebook everyday?, how many people use YouTube per day?, how many tweets per day?, who spends the most time on social network sites? percent of adults who use social networks ?