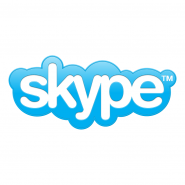 Statistic Verification
Source: Statistic Brain Research Institute, Skype Journal, Skype Numerology
Research Date: June 6th, 2015
statistics on skype company statistics ? how many people use skype?, what is the average amount of time spent on skype?, how many people use skype as they're primary source of communications?, what is skype yearly revenue?, how much does skype cost monthly?, how much does skype cost every year?, how many people log into skype every month?, how many people log into skype everyday?, how much of all minutes spent talking are spent on skype?
Share This
Skype Statistics
Total number of Skype users
74,000,000
Average time spent on a Skype conversation
27 minutes
Number of time that active Skype users spend on Skype per month
100 minutes
Total percentage of small businesses that use Skype as primary communication service
35%
Number Skype enabled television sets
50 million
Number of iphone Skype downloads per year
11,500,000
Number of people who have ever used Skype
560 million
Total percentage of Skype calls that are video to video
40%
Average spent yearly by a paying Skype user
$96
Skype revenue in 2010
$406.2 million
Number of monthly log-ins to Skype
124 million
Number of monthly paying Skype users
8.1 million
Amount of money spent by Microsoft to acquire Skype
$8.5 billion
Skype is a service that allows users to communicate via video or audio over their internet connection.