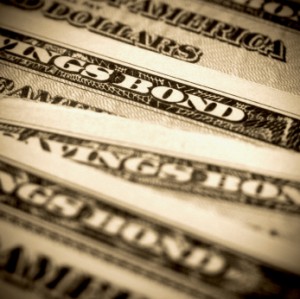 Series I Government Bond Historic Rates
| | |
| --- | --- |
| Issue Date | Inital Composite Rate |
| May 2015 | 0.00% |
| May 2012 | 2.20% |
| November 2011 | 3.06% |
| May 2011 | 4.60% |
| November 2010 | 0.74% |
| May 2010 | 1.74% |
| November 2009 | 3.36% |
| May 2009 | 0.00% |
| November 2008 | 5.64% |
| May 2008 | 4.84% |
| November 2007 | 4.28% |
| May 2007 | 3.74% |
| November 2006 | 4.52% |
| May 2006 | 2.41% |
| November 2005 | 6.73% |
| May 2005 | 4.80% |
| November 2004 | 3.67% |
| May 2004 | 3.39% |
| November 2003 | 2.19% |
| May 2003 | 4.66% |
| November 2002 | 4.08% |
| May 2002 | 2.57% |
| November 2001 | 4.40% |
| May 2001 | 5.92% |
| November 2000 | 6.49% |
| May 2000 | 7.49% |
| November 1999 | 6.98% |
| May 1999 | 5.05% |
| November 1998 | 5.05% |
| September 1998 | 4.66% |
Series I bonds have a variable yield based on inflation. The interest rate consists of two components: the first is a fixed rate which will remain constant over the life of the bond. The second component is a variable rate reset every six months from the time the bond is purchased based on the current inflation rate. New rates are published on May 1 and November 1 of every year. The fixed rate is determined by the Treasury Department; the variable component is based on the Consumer Price Index.
Statistic Verification
Source: U.S. Treasury
Research Date: September 17th, 2015
Questions: what is the current series i government bond interest rate ? historic individual government savings bond rates ? statistics on government bond rates ? investing in series i government bonds information and statistics ?