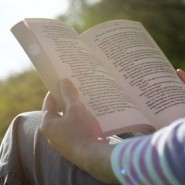 Statistic Verification
Source: Read Faster, Reading Stats
Research Date: July 14th, 2014
Reading is a complex cognitive process of decoding symbols in order to construct or derive meaning (reading comprehension). It is a means of language acquisition, of communication, and of sharing information and ideas. Like all language, it is a complex interaction between the text and the reader which is shaped by the reader's prior knowledge, experiences, attitude, and language community which is culturally and socially situated. The reading process requires continuous practice, development, and refinement. In addition, reading requires creativity and critical analysis. Consumers of literature make ventures with each piece, innately deviating from literal words to create images that make sense to them in the unfamiliar places the texts describe. Because reading is such a complex process, it cannot be controlled or restricted to one or two interpretations.
Share This
Reading Statistics
Total percent of U.S. population that has specific reading disorders
15%
Total percentage of american adults who can't understand the labels on their prescriptions
46%
Total percent of young people who claim they read more than 10 books a year
56%
Total percentage of U.S. adults who are unable to read an 8th grade level book
50%
Total amount of words read annually by a person who reads 15 minutes a day
1 million
Total percent of U.S. high school graduates who will never read a book after high school
33%
Total percentage of college students who will never read another book after they graduate
42%
Total percentage of U.S. families who did not buy a book this year
80%
Total percentage of adults that have not been in a book store in the past 5 years
70%
Total percentage of books started that aren't read to completion
57%
Total percent of U.S. students that are dyslexic
15%
Total percentage of NASA employees that are dyslexic
50%
Total number of U.S. inmates that are literate
15%
statistics on book reading ? book reading statistics ? who many people have a reading disorder?, how many people are dyslexic?, how many students are dyslexic?, how many people don't read?, how many people haven't bought a book in the past year?, how many people haven't gone to a book store in the past 5 years?, what percentage of people start reading a book that they never finish?, how many people never read again after they graduate?