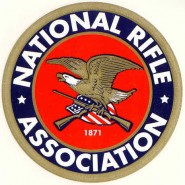 Statistic Verification
Source: Just Facts, National Rifle Association
Research Date: October 2nd, 2014
The National Rifle Association of America (NRA) is an American nonprofit organization whose primary mission is "to protect and defend the Constitution of the United States...", especially the right to keep and bear arms. Founded in 1871, the group has informed its members about firearm related bills since 1934, and it has directly lobbied for and against legislation since 1975.
Share This
National Rifle Association (NRA) Statistics
Total number of members of the NRA
4.3 million
Annual NRA revenue
$205 million
Amount spent by the NRA during the 2008 presidential election
$10 million
Amount the NRA's CEO Wayne LaPierre earns annually
$895,897
Amount spent on the new NRA headquarters built in 1990
$15 million
Amount of annual contributions spent of fundraising
46 %
Total number of Firearms owned by U.S. civilians (2010)
300 million
Total number of U.S. Firearms owned by civilians that are Handguns
100 million
Gun Ownership Demographics
A 2005 nationwide Gallup poll of 1,012 adults found the following levels of firearm ownership
Total Percentage of Households owning a Firearm
42%
Total Percentage of Individuals owning a Firearm
30%
Total Percentage of Males owning a Firearm
47%
Total Percentage of Females owning a Firearm
13%
Total Percentage of Whites owning a Firearm
33%
Total Percentage of Non-whites
18%
Total Percentage of Republicans owning a Firearm
41%
Total Percentage of Independents owning a Firearm
27%
Total Percentage of Democrats owning a Firearm
23%
In the same poll, gun owners stated they own firearms for the following reasons
Total Percentage who own Firearms for Protection Against Crime
67%
Total Percent who own Firearms for Target Shooting
66%
Total Percent who own Firearms for Hunting
41%
The following are estimates of private firearm ownership in the U.S. as of 2010
| | | | |
| --- | --- | --- | --- |
| | Households With A Gun | Adults Owning a Gun | Adults Owning a Handgun |
| Percentage | 40-45% | 30-34% | 17-19% |
| Number | 47-53 million | 70-80 million | 40-45 million |
what is the total number of firearms owned in the u.s.? how many handguns are owned in the u.s.?, what is the percentage of democrats who own firearm?, what are the percentage of republicans who own firearms?, what are the percentage of independents who own firearms?, what are the percentage of males who own firearms?, what are the percentage of females who own firearms? what are firearms most commonly used for?, what percent of gun owners have firearm for protection?, what percent firearm owners use for target practice?, what percent of firearm owners use for hunting?