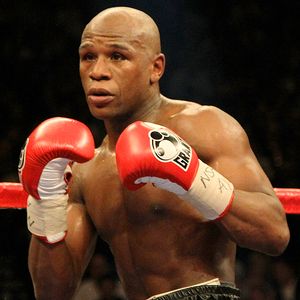 Floyd Mayweather Jr. Career Statistics
Floyd Mayweather Boxing Earnings
Fight Date
Pay-Per-View Buys
Payout
*Payouts includes share of PPV sales
vs. Andre Berto
9.12.15
750,000
$32,000,000
vs. Manny Pacquiao
5.2.15
29,900,000
$180,000,000
vs. Marcos René Maidana
9.13.14
925,000
$38,000,000
vs. Marcos René Maidana
5.3.14
900,000
$45,750,000
vs. Canelo Alvarez
9.14.13
2,200,000
$41,500,000
vs. Robert Guerrero
5.4.13
1,000,000
$50,000,000
vs. Miguel Cotto
5.5.12
1,500,000
$40,000,000
vs. Shane Mosley
5.1.10
1,800,000
$28,500,000
vs. Juan Manuel Marquez
9.19.09
1,000,000
25,000,000
vs. De La Hoya
5.5.07
2,480,000
$25,000,000
vs. Carlos Baldomir
11.4.06
725,000
$8,000,000
vs. Arturo Gatti
6.25.05
650,000
$3,200,000
vs Genaro Hernandez
10.3.98
$150,000
Total career earnings
$620,000,000
Undefeated, Mayweather is a five-division world champion, who has won eight world titles and the Lineal championship in three different weight classes. Mayweather was born in Grand Rapids, Michigan, United States into a family of boxers. His father, Floyd Mayweather Sr., was a former welterweight contender who fought Hall of Famer Sugar Ray Leonard. Mayweather topped the Forbes and Sports Illustrated lists of the 50 highest-paid athletes of 2012.
Statistic Verification
Source: World Boxing Association
Research Date: September 13th, 2015
Questions: How much is Floyd Mayweather Junior getting paid to fight Manny Pacquiao? What is Floyd Mayweather's boxing career record? Statistics on Floyd Mayweather Junior? Floyd Mayweather net worth?