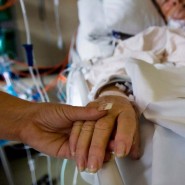 Statistic Verification
Source: Gallup Poll, Angelfire, Nightingale Alliance
Research Date: March 18th, 2015
Euthanasia conducted with the consent of the patient is termed voluntary euthanasia. Active voluntary euthanasia is legal in Belgium, Luxembourg and the Netherlands. Passive voluntary euthanasia is legal throughout the U.S. per Cruzan v. Director, Missouri Department of Health. When the patient brings about his or her own death with the assistance of a physician, the term assisted suicide is often used instead. Assisted suicide is legal in Switzerland and the U.S. states of Oregon, Washington and Montana. Questions: How many elderly are euthanized each year? What percent of people support euthanasia?
Share This
Euthanasia Statistics
Total percentage of medical practitioners that support Euthanasia
54%
Percent of public who support euthanasia for the terminally ill / on life support
86%
Average percent of terminally ill patients who die in pain
55%
Total number of years Dr. Jack Kevorkian served in prison for Physician Assisted Suicide
8 years
Total number of places that openly and legally authorize active assistance in dying (Oregon, Switzerland, Belgium, Netherlands)
4
Total number of largest group (Right-to-Die) that have paid supporters (Japanese) of rights to assisted suicide
100,000
February 4-5 poll of 1,001 Americans asked " Generally speaking, do you support or oppose legalizing euthanasia in the U.S.?"
Total number who supported Euthanasia
42%
Total number who opposed Euthanasia
37%
Total number who were unsure about Euthanasia
22%
Total number who answered "Strongly Support" Euthanasia
28%
Total number who answered "Moderately Support" Euthanasia
28%
Total percent who answered "Moderately Oppose" Euthanasia
14%
Total percent who answer "Strongly Oppose" Euthanasia
23%
Total percentage of Democrats who support Euthanasia
47%
Total percentage of Republicans who oppose Euthanasia
51%
statistics on euthanasia ? how many people support euthanasia?, is euthanasia legal?, what demographics are for euthanasia?, what demographics oppose euthanasia?, how long was Dr. Jack Kevorkian sentenced for assisted suicide?, how many people die in pain? euthanasia support for terminal illness ?