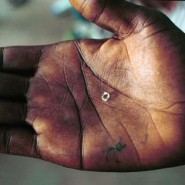 Statistic Verification
Source: World Bank, United Nations, Kimberly Process
Research Date: January 13th, 2015
Blood diamonds (also called a conflict diamonds, converted diamonds, hot diamonds, or war diamonds) is a term used for a diamond mined in a war zone and sold to finance an insurgency, an invading army's war efforts, or a warlord's activity. The term is used to highlight the negative consequences of the diamond trade in certain areas, or to label an individual diamond as having come from such an area.
Share This
Conflict Diamond Statistics
Data
Percent of total world diamond production that are conflict diamonds
4 %
Peak percent of total world diamond production that were conflict diamonds
15 % (1990)
Annual value of conflict diamonds smuggled in from the Ivory Coast
$23 Million
Percent of Sierra Leone's diamond production that are conflict diamonds
15 %
Total number of deaths attributed to conflict diamond mining
3 Million
Average daily pay for a conflict diamond worker
$0.07
Number of countries that are members of the Kimberly Process
75
Percent of The Republic of Congo's diamonds that have unknown origins
40 %
Countries with the Highest Production of Conflict Diamonds
Percent of World Production
Angola
2.1 %
Sierra Leone
1 %
Democratic Republic of Congo
0.5 %
Diamond Store Statistics
In 2004, Amnesty International and Global Witness conducted a survey of 246 diamond retailers in 50 cities across 18 states. The following is an excerpt of their report:
Percent of stores that were able to assure that they had a policy on conflict diamonds
27 %
Percent of store that were able to furnish a hard copy of their diamond policy
31 %
Percent of stores that were aware of the Kimberly Process
28 %
Percent of stores when asked if customers inquire about conflict diamonds responded rarely or never
83 %
Number of stores that refused outright to take the survey
110
Top Diamond Producing Countries
Country
Carats
Price / Carat
Value
Percent of World Value
Botswana
21,000,000
$76
$1,613,000,000
22 %
Russia
16,000,000
$94
$1,523,000,000
21 %
South Africa
10,000,000
$101
$985,000,000
14 %
DR Congo
22,000,000
$33
$725,000,000
10 %
Angola
3,600,000
$150
$544,000,000
8 %
blood diamond statistics ? sierra leone diamond trade statistics ? blood diamond facts and statistics ? statistics on conflict diamonds ? blood diamond production statistics ?