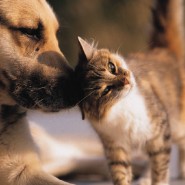 Statistic Verification
Source: American Humane Society, Born Free U.S.A., Pet Finder
Research Date: July 13th, 2014
Animal shelters house homeless, lost, or abandoned animals, typically cats and dogs. The goal of the modern animal shelter is to provide a safe and caring environment until the animal is either reclaimed by its owner, placed in a new home, or placed with another organization for adoption. Some public animal shelters around the world euthanize animals that are not adopted within a set period of time (usually 1 to 2 weeks); others have a policy of only putting down animals that are in distress due to age or illness. Most private shelters are typically run as no-kill shelters. Most shelters will test the animals to see what type of home would be most suitable for living before they are placed for adoption.
Share This
Animal Shelter Statistics
Total number of nationwide animal shelters
5,000
Number of companion animals that enter into animal shelters nationwide annually
5 million
Average annual number of companion animals that are euthinized at shelters
3.5 million
Percent of dogs in animals shelters that are euthanized
60%
Percent of cats in animal shelters that are euthanized
70%
Percent of cats that are returned to their owners
2%
Percent of dogs returned to their owners
15%
Total percentage of dogs claimed to be spayed or neutered
78%
Total percentage of cats that are claimed to be spayed or neutered
88%
Total number of animals that end up in a shelter that are spayed or neutered
10%
Percent of dogs brought to shelters that were adopted by a shelter
20%
Percent of dogs and cats that are adopted from shelters
25%
Total number of dogs and cats that are bought at pet stores
6%
Percentage of people that get their pets free or at low cost
65%
Cost of taxpayer money annually to round up, house, kill and dispose of homeless animals
$2 billion
Total percentage of dogs in shelters that are purebred
25%
Total percentage of U.S. homes who own at least 1 companion animal
63%
Total number of homes that own at least 1 companion animal
70 million
statistics on animal shelters humane society ? how many animal shelters in the u.s.?, how many animals enter annually?, how many dogs go to animal shelters?, how many cats go to animal shelters?, what percent of dogs and cats are spayed or neutered?, what percentage of dogs and cats are claimed to be spayed or neutered?, are dogs in shelters purebred?, where do most people get their pets?, how many people own at least one pet?