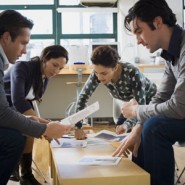 Statistic Verification
Source: The Gale Group, Inc.
Research Date: March 17th, 2015
Questions: Who are the largest ad advertising agencies? What is the annual revenue for all advertising companies? What is the average employee salary in advertising? Statistics on advertising agencies?
Share This
Advertising Agency Statistics
Data
U.S. advertising agency annual revenue
$48 Billion
Total number employed in the advertising industry
462,300
Average nonsupervisory worker salary
$39,000
Agency Revenue by Category
Advertising
33 %
Direct Marketing and Customer Relation Management
17 %
Digital
14 %
Public Relations
11 %
Promotion
9 %
Media
7 %
Other Billings
9 %
Largest Advertising Agencies
Omnicom Group Inc.
$11.7 Billion
WPP Group PLC.
$13.8 Billion
The Interpublic Group of Companies, Inc.
$6 Billion
Young & Rubicam Brands
$1.2 Billion
J. Walter Thompson, (JWT)
$1.3 Billion
Interesting Advertising Statistics
Coca-Cola spent $11,000 on advertising in 1893; by 1928, its ad budget had grown to $5 million.
Campbell's Soup spent $4,000 on advertising in 1899 and $2.5 million in 1928.
Wrigley started advertising its chewing gum in 1920 with only $32; 10 years later its ad budget had reached $3 million
who are the largest ad advertising agencies ? what is the annual revenue for advertising companies ? what is the average salary for someone in advertising ? statistics on advertising agencies ?